Dr. David Backus, DDS - Toledo Dental Anesthesiologist
Dr. David Backus is committed to providing excellence in dentistry, and stands out as a leading dentist in Toledo. The doctor uses the latest in dentistry techniques to provide you with a beautiful and healthy smile. Additionally, Dr. David Backus believes strongly in education to prevent oral health problems before they occur, and makes sure to keep patients fully informed about their dental health. Read more about Toledo dentist Dr. David Backus below.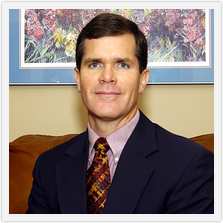 David R. Backus RPh, DDS
Dr. Backus is a native of the Toledo area. He is a 1977 graduate of St. Johns Jesuit High School, attended The University of Toledo and graduated from The College of Pharmacy in 1983. He attended The Ohio State University for Dentistry. After graduation in 1986 he proudly served in the United States Air Force and United States Public Health Service in Alaska. After 23 years of private practice, Dr. Backus decided to persue a formal Dental Anesthesiology residency program at Lutheran Medical Center, Brooklyn, NY. Graduating in 2011, he earned a certificate in Advanced Specialty Education in Dental Anesthesiology. Dr. Backus received his Board Certification in Anesthesia in 2018. He is a Diplomate of both the American Dental Board of Anesthesia and the National Dental Board of Anesthesia. Bringing Anesthesia services to a requesting doctor and providing quality Anesthesia care while the Doctor completes dentistry is a service that less than 350 Dentist Anesthesiologist in the United States can offer. Also, Dr. Backus provides a wide variety of anesthesia and dentistry in his own office. Dr. Backus is a member of local and National Dental/Anesthesia organizations and is considered a lifelong learner by his peers.